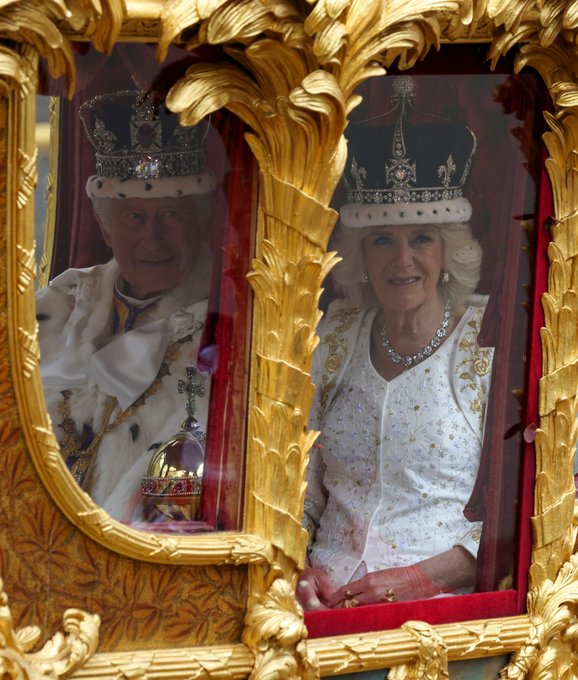 A view from Whitehall. From
Tatler
:
We glimpsed the King and Queen and I wondered now how their nerves were holding up. Some 2,200 guests had been arriving at the abbey since 7.30am. As the service was relayed over loudspeaker, the crowd fell silent. And when, an hour later, the King was crowned, the crowd roared. They'd waited in the cold and rain, but all was well, they had a new King.

At 1.15pm, the Coronation procession approached us in Whitehall to huge cheers as onlookers caught sight of the newly crowned King Charles III and Queen Camilla, now travelling in the Gold State Coach drawn by eight Windsor Greys. Someone close by screamed in delight: 'The King waved at us.' I think she was right. Gazes were fixed on the ornate gold carriage – a 260-year-old living part of British history that has been used in every coronation since that of William IV in 1831. It was clear that the rigorous midnight-till-dawn rehearsals had paid off as the armed forces from the Commonwealth and British Overseas Territories processed alongside the new monarch in perfect unison, a procession of 4,000 personnel, the largest military ceremonial procession since the Coronation of Queen Elizabeth II. Was every guardsman in the country parading today? Close behind the King and Queen was the carriage of the Prince and Princess of Wales and their children, Princess Charlotte, Prince George and Prince Louis. The crowd cheered and screamed as they passed, little Louis waving enthusiastically through the window. More carriages and cars followed with family members, including the Edinburghs, the Gloucesters, and Vice Admiral Tim Laurence, whose wife, Princess Anne, was riding behind her brother the King, serving as Gold-Stick-in-Waiting. (Read more.)
Watch the coronation HERE. I watched it with The Royal Rogue, HERE.

Share