I started watching Blonde on Netflix last night but turned it off. What a completely vile film. Unwatchable. And not even true. It is a shame because Ana de Armas plays the part of Marilyn Monroe/Norma Jean Baker so well and is exquisitely beautiful in it. According to Variety:
Andrew Dominik's "Blonde," starring Ana de Armas as Marilyn Monroe, skyrocketed to the top of Netflix's movie chart after its first day available to stream, but the NC-17 drama is leaving many subscribers outraged. The film may have been the talk of the Venice Film Festival with its 14-minute standing ovation, but critics and viewers are calling it "sexist," "cruel" and "one of the most detestable movies" ever made.

"Given all the indignities and horrors that Marilyn Monroe endured during her 36 years, it is a relief that she didn't have to suffer through the vulgarities of 'Blonde,' the latest necrophiliac entertainment to exploit her," wrote The New York Times film critic Manohla Dargis, who panned the movie in her review. (Read more.)
The Variety article goes on to pan the movie as being "anti-abortion." If that is the case, then good; I am glad it showed abortion as the horror that it is. I, however, could not bear to stick around any longer to hear more screaming. It is likely true that Norma Jean aka Marilyn had multiple abortions, which may have contributed to her later infertility and ongoing despair.
From The Ringer:
Published in 2000, Joyce Carol Oates's novel Blonde borrowed (or stole) Insignificance's no-proper-names conceit and integrated it into a formidable array of literary and rhetorical tricks. Like Mailer's tome, Oates's 700-page doorstop represented yet another Great American Writer's attempt to wrestle with—and profit from—Monroe's legacy, as well as to show off her own virtuoso prose. Similarly flouting the rules of biography and working with an extra 30 years' worth of hindsight, Oates inflated Monroe into a tragic, emblematic figure of 20th-century femininity: a hapless, helpless victim used and abused by her own illusions, and those of millions of others as well. In swapping out Mailer's disingenuous chivalry for violent, picaresque melodrama, Oates not only turned her heroine's sickness into metaphor but reveled in it. In interviews, the author said that she saw Monroe as her version of the Great White Whale, which would make Oates herself Ahab—a crazed, kamikaze hunter stalking dangerous game until they both went down together.

Andrew Dominik's film adaptation of Blonde, which stars Ana de Armas as Monroe, hews relatively closely to Oates's text, meaning it's faithful to her particular strain of bad faith. Drawing on and selectively hyperbolizing the historical record—and eliding any moments that might interrupt its highlight-reel-slash-atrocity-exhibition structure—it's a no-holds-barred exercise in unpleasantness featuring enough graphic scenes of sexualized violence to earn an NC-17 rating. The film opens with the young Norma Jeane Baker as a girl physically and psychologically terrorized by her mother, who tells her that she's the illegitimate daughter of a famous movie star who'll one day return to claim her; gazing obsessively at the man's photo, Norma (Lily Fisher) wonders whether she somehow drove him away. The idea that Monroe lived the rest of her life in thrall to this dashing absentee father pervades the film's ensuing inventory of her personal and romantic relationships. A few years out of the orphanage where she was deposited following her mother's mental breakdown, Norma carouses unrepentantly with the adult sons of Charlie Chaplin and Edward G. Robinson, forming a tabloid-friendly throuple raising fingers to the Old Hollywood establishment. After gaining traction as a pin-up model, she transforms into the platinum-blond Marilyn as a way to leave her sadness behind, only to find that it follows her and deepens in the hairline fractures of her new sexpot persona. Courted by A-listers of all kinds and insecure about her acting talent, Marilyn proves unable to reconcile her modest yet all-consuming desire to be loved with the demands of fame. Wracked with grief over a series of failed pregnancies—including one thwarted by her own hand—she falls, swiftly and almost gratefully, into a haze of barbiturates and self-loathing, down a bottomless abyss that gazes back at her every time she looks at a mirror or movie screen.

Downward spirals are irresistible to filmmakers looking to flex their aesthetic muscles, and Blonde, which exists somewhere between period-piece meticulousness and impressionism, is awash in spectacular displays of technique. Nearly every passage features some kind of warped perspective or augmented soundscape; throughout, there are relentless, Oliver Stoned shifts in framing and cinematographic format, from ripe color to drab black-and-white and back again. Grim, magic-realist touches abound: The opening sequence, set in 1933, unfolds in the midst of a fire in the Hollywood Hills that draws Norma Jeane's mother (Julianne Nicholson) toward it like a moth to the flame, terrified daughter in tow. The blaze heralds an ingenue story coated in ashes, an apocalyptic inferno as the showbiz primal scene. Later, the newly platinum actress's audition for a role in the B-movie thriller Don't Bother to Knock transforms, Mulholland Drive–style, into an intimate, close-up psychodrama. As Marilyn exits the studio, we iris in on her rear end in leering, synchronous complicity with the sexist executives who can't decide whether they're embarrassed, turned on, or repulsed by what they've just seen. It's the same sleazy ambiguity that's slathered all over Blonde's immaculately composed frames like a layer of slime. (Read more.)
So next we tried Empress on Netflix, and it was almost as bad, and about as historical as Disney's live-action Cinderella. It is alleged to be the love story of Elizabeth of Bavaria and her first cousin Franz Josef, the Emperor of Austria. The sets and scenery are fabulous but the costumes and hairstyles are strange. Plus Sisi's hair is much darker than it really was. It shows both Sisi's parents being sadistically cruel to her; I never had the impression that they were. The court ladies have weird matching bouffant hairstyles. And would Maximilian have been allowed to bring his mistress down for breakfast? Meanwhile, the people of Austria are being starved, just like in Snow White and the Huntsman. I made it through the first episode, but that is my limit.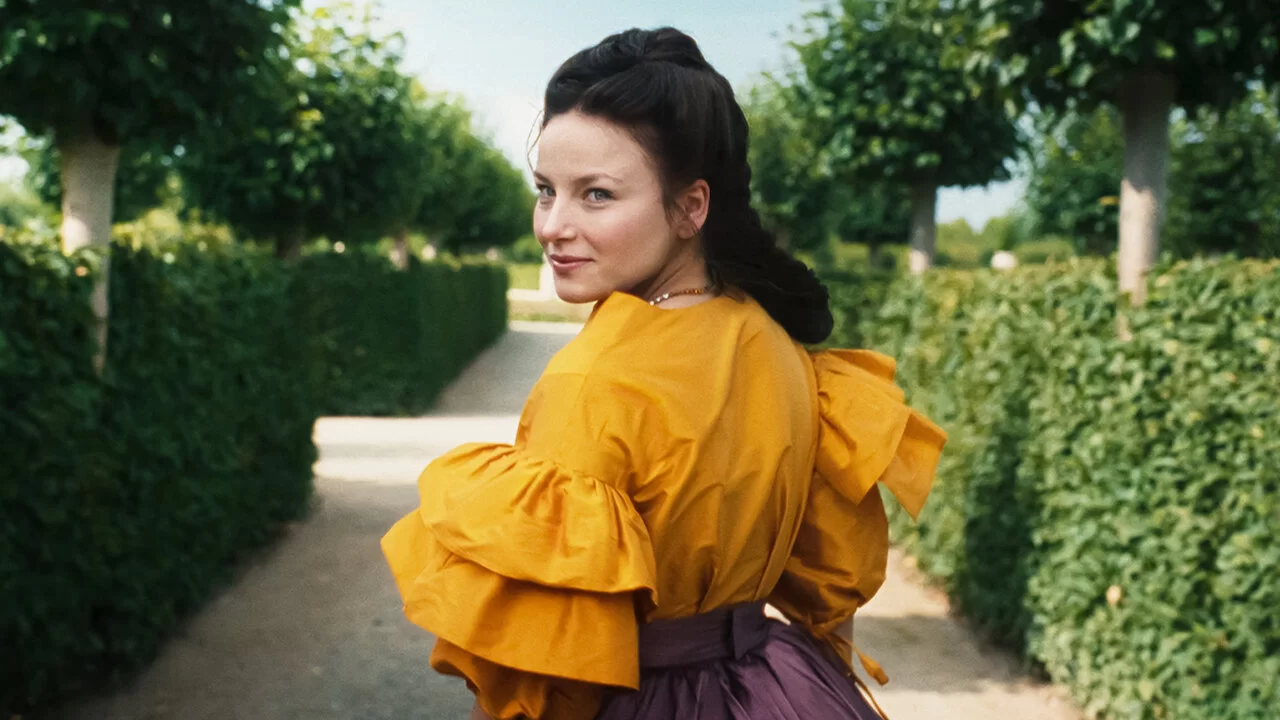 There is another terrible film coming out about the murdered Elizabeth, Empress of Austria, called Corsage. In the words of Eye for Film:
Marie Kreutzer's focus in Corsage (Austria's Oscar entry and a Main Slate selection of the 60th New York Film Festival, produced by Toni Erdmann director Maren Ade) is on Empress Elisabeth of Austria turning 40 years old. Vicky Krieps, who shared the Cannes Film Festival Un Certain Regard Best Performance Award is in excellent form and up to the task of presenting to us the icon in all her idiosyncrasies. It is December 1877 and the Empress holds her breath, literally and more than once, in a cold bath or while her corset is laced ever more tightly by her maids, she sometimes confuses. Is it Hanni or Fini?

Her husband, the Emperor Franz Joseph I (Florian Teichtmeister) knows who is the thinner one and leaves out no opportunity to comment on what he sees as female physical decay in middle age. It's all numbers - how long she can hold her breath underwater in the ice baths, how tiny she can manage her waist to be. Without this sense of control her life would surely fall apart. Teaching cousin Ludwig II (Manuel Rubey) the art of fainting naturally, Krieps charmingly doubles up on the message of the performative. Here is an actress playing royalty playing at fainting in order to escape the pressures of the public eye.

Some of the winks to the present work better than others in Corsage. When Sisi and three of her ladies-in-waiting, accompanied by a gaggle of dogs, enter the palace, Charlie's Angels like in slow motion, we hear a female singer with the omnipresent 21st century choky-sexy voice croak how "she was lost." When Sofia Coppola made anachronistic music choices for Marie Antoinette it was fresh, now it feels as though Kreutzer didn't fully trust her own vision, which in other scenes is much more artful and deep. "We love in the other what we'd like to be," says Sisi, encroaching more and more on Lacan territory and the desire of the desire of the Other.

Horseback riding, fencing lessons, and trips to get out of stuffy old Vienna promise a little bit of freedom from the excruciating scrutiny by the press who love her and comment ceaselessly on every aspect of her being. The costume design (by Monika Buttinger) is exquisite, as it wraps her body in skins, a collar of feathers, a shell for the body recalling fish scales. She is a wild creature, trapped in the body of an empress, and the clothing, despite the fact of the corset strangling her organs, still feels as though the animal kingdom is closer to her than the humans of the court.

What is it about Empress Elisabeth of Austria that makes her so inexhaustibly fascinating? The answers are many. Born a Bavarian duchess from the House of Wittelsbach on Christmas Eve 1837 and assassinated at age 60 in Geneva by an anarchist - her life has been a very full and extraordinary one. Sisi's role in establishing the K&K dual monarchy of Austria-Hungary in 1867, her distinct and often extreme fitness and diet regime, the Rapunzel-like hair, the extensive travels, what happened with her son at Mayerling, the bond with her cousin, the "mad" swan king Ludwig II (whose castle to this day shines from many a Disney logo) - all this has been floating in public consciousness in waves of popularity.

In other words, Sisi never drowned. There are the famous midcentury Sissi films (with double s, though the real Sisi preferred one) with Romy Schneider which are in the German speaking world the equivalent of The Wizard Of Oz or It's A Wonderful Life as holiday treats. A recent boom of rediscovery portrays her in various TV series, In László Nemes's excellent 2019 movie Sunset (Napszállta) she is a haunting presence in absence, and Frauke Finsterwalder's Sisi & I (screenplay with Christian Kracht, starring Sandra Hüller and Susanne Wolff as Sisi) is scheduled to be released next year.

"At 40 a person dissolves," Sisi says and her husband as well as the painter hired for her final official portrait keep shooting arrows at her self-confidence about her weight and complexion. Her visit to hospitals and especially a women's ward for the insane comfort her and as she distributes neatly wrapped purple parcels of candied violets to patients, she also initiates the installation of modern bathrooms for the institution. The veil on her face is a finely-spun sibling to the netting around the "melancholic" women's beds. What was the reason a particularly despondent woman was brought to the asylum for treatment, the monarch inquires. "Adultery" is the bombshell response.

Her little nine-year old daughter Valerie (Rosa Hajjaj) does not bond with her mother. Nighttime riding escapades are not her thing and only make her sick. She is her father's daughter and loves the order of Schönbrunn Castle, which to Sisi resembles a prison. "You are the child, Mama" she says in frustration. Yes, Sisi lives in a world of her own, and the privileges she has are enviable compared to most women at the time. And yet, she is clearly stifled and would love to be the one to invent air conditioning or be involved in politics more. When she confronts "FJ", as he is called here, about being kept out of any important political decisions, he points to the reason why he married her in the first place - to be ornament, physical representation, "a good picture," not flesh and blood and intellect and energy and stride.

What is there to be unhappy about? How would he feel if he had nothing to do but having his hair braided all day? Sometimes this Sisi sticks out her tongue or uses language she probably wouldn't have used in the 19th century like that, which feels a little too eager to get young audiences to relate, although it is very clear how much her story resonates today. During a trip to England (with the filming location looking rather continental) to visit an old friend together with her sister, she is introduced to a brand-new invention: moving pictures! The invented scenes with Finnegan Oldfield as Louis Le Prince (who sports an earring) are lovely and provide great context of the times. "I love to look at you looking at me," she tells her "riding instructor" before a tragic accident cuts the trip short. (Read more.)

Share