Christa Théret as Mary of Burgundy
One of the great love stories of the middle ages, and an entirely true one, is that of Archduke
Maximilian of Austria
, the future Holy Roman Emperor, and Duchess
Mary of Burgundy
. Their 1477 marriage of convenience not only saved them both politically but was also the occasion of a great love affair which charmed and fascinated all of Europe. Their romance has not been the subject of as many novels and films as have some other historical lovers. However, the Austrian production company Kino Lorber has sought to remedy such an omission by the 2017 mini-series
Maximilian
. Filmed in the forests, mountains and castles of Maximilian's homeland, the production shines in authenticity among even the best of historical epics. My one complaint about the show is how the French are portrayed. At the French court, Louis XI and his family are shown in drab blue and gray clothes, sitting in dark rooms, watching people being tortured, an extremely dismal sight and not quite in keeping with how we know the Valois kings lived. Otherwise, it is a drama worth watching twice. But I will warn those with children that it is not a family show. From the
Kino Lorber website
:
A beautifully mounted miniseries of royal love and deception set during the Hapsburg Empire, Maximilian and Marie de Bourgogne is a feast for the senses. The year is 1477, and while the barbarism of the Middle Ages is slowly giving way to humanism and order, there are still mercenaries and foot-soldiers and kings who soak the battlefields with their blood. When the Duke of Burgundy dies in battle, Mary (Christa Théret), his only child, intends to rule over the duchy despite the rule of masculine succession. The richest heiress in Europe, the sharp-minded young woman is coveted by various suitors. Maximilian of Hapsburg (Jannis Niewöhner), the young Austrian archduke, stubbornly opposes his father, the Roman Emperor Frederick III, who wants his son to marry the young Duchess of Burgundy. It is only after a perilous journey through a realm ravaged by war and the Black Death that Mary and Maximilian begin their flirtation. It is a love beset by jealousies and enemies, but also one under which the Burgundian Middle Ages transforms itself into the splendor of the Hapsburg empire at the beginning of modernity. Two lovers pave the way for the Renaissance, an era that is to change the world...
Maximilian and Mary are two troubled young people in a violent universe of deception and betrayal who rescue each other in every way, psychologically and emotionally as well as socially and politically. Theirs is a union of hearts and souls, causing them to find happiness together, surprisingly and unexpectedly, for arranged marriages were not always romantic. Maximilian in particular saves Mary from the French and from some of her burghers; he calmly and energetically rides into Ghent and takes charge. It is tremendous acting on the part of Jannis Niewöhner as Maximilian, depicting an inexperienced young man exercising firmness, leadership and authority, without a hint of tyranny. But then Maximilian was said to be the model of both a knight and a prince. Another character well-portrayed is Alix Poisson as Margaret of York, Mary's beloved stepmother. With history and fairy-tales fairly bursting with evil stepmothers it is heartening to see a stepmother who genuinely cared for a child as her own. According to a review from
DVD Talk
:
This series, which watches as a five-hour movie, is exactly the style that American audiences are enjoying right now; I'm surprised that it isn't more widely known. Perhaps it simply wasn't released here; it's entirely European and makes no attempt to be "Hollywood". You can tell because it doesn't have a random, American explorer or some other ridiculous write in to appease us, which I'm very happy to report. No, this is Austrian television, coming at you in German, French, Dutch; whatever language the historical figures would have spoken when they were alive. In that way, I think this series does a tremendous job, but also might lose a few viewers who don't want to spend the entire time watching subtitles from multiple languages, until their heads are spinning with accents, dialects, official names, and ancient map references. But that all sounds good to be, as a history and a movie buff, so judge for yourself.
I was concerned at the beginning, because the first few episodes are full of court appearances and blustery discourses. I didn't know how many more times I could watch Maximilian be summoned to his father's throne room to get a lecture, and then switch to a different country to see the same thing from a different royal family. But thankfully that only lasted long enough to set events in motion; then the more dramatic elements began to pick up steam. This is a love story at its core; Mary and Maximilian were said to have a true romance, and their relationship set the stage for the Renaissance in later years. We see that love, some appropriate nudity, a side story or two, a touch of combat and battle; all the makings of an epic, European, Medieval melodrama, and almost always in the best ways. What more could you ask for from a limited series; I really think that if more people got their hands on this tale it could break out in a big way. (Read more.)
In the beginning the drama grinds along dolefully, with all about to be lost, until the moment the hero and heroine meet, and then the sun begins to shine. From that point their lives change and, although they may not know it, the world will never be the same as well. For by the union of Maximilian and Mary, two great dynasties are founded, the Spanish Habsburgs and the Austrian Habsburgs. For through their son Philip the Handsome, Maximilian and Mary are the grandparents of Emperor Charles V, who tried to safeguard the Catholic faith during the Reformation.
Alix Poisson as Margaret of York, with Mary and Maximilian
The real Mary of Burgundy and Maximilian of Austria
Archduke Maximilian
Mary of Burgundy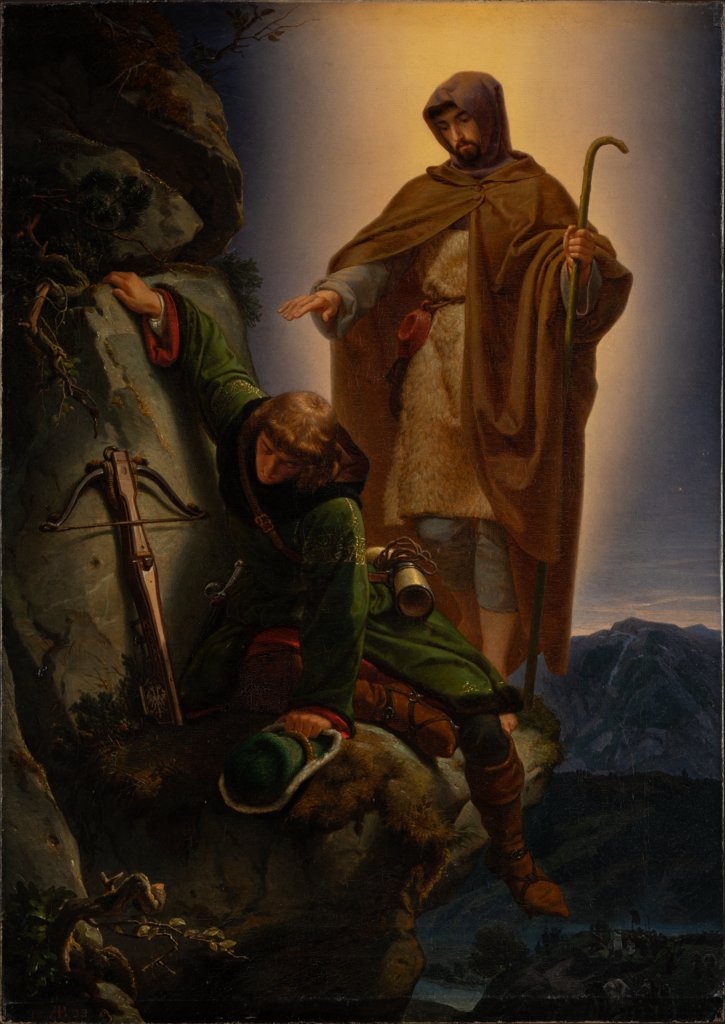 Maximilian and His Guardian Angel
Mary of Burgundy Granting the Great Privilege
More
HERE
.
Share