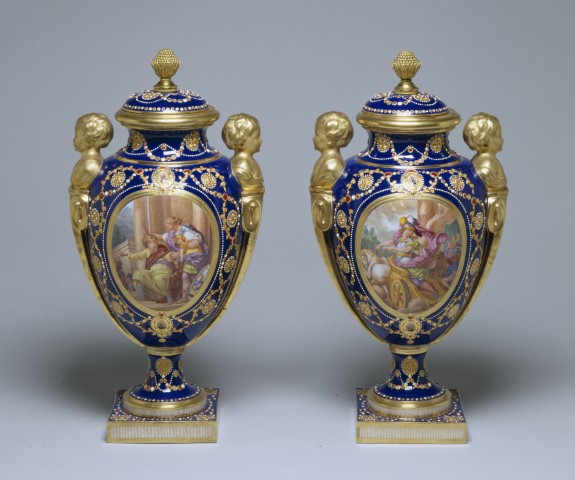 During a recent visit to the Walter's Art Museum in Baltimore, Maryland I saw the vases above, part of the famous "jeweled"
Sèvres collection ordered by Louis XVI. According to the Walter's website:
Between 1778 and 1782, Sèvres manufactured for Louis XVI a series of vases with handles shaped as busts of infants, young women, and old men, hence the name "vases des âges." The Walters' examples, with the infants and a "bleu nouveau" ground color, bear classical scenes and an additional decoration of "jewels" composed of enamel drops over gold foil.

The classical scenes are derived from an illustrated edition of Télémaque, a romance set in antiquity written by Fénélon in 1699. These vases show Telemachus, the son of Ulysses, winning a chariot race and Minerva, disguised as an old man, persuading Telemachus to participate in a war against the Dauniens. These vases were designed by Jacques-François Deparis. The painting was by Antoine Caton, the gilding by Etienne-Henry Le Guay, and the jewels by Philippe Parpette.
Share