Sunday, December 8, 2013
From
Vive la Reine
.
Share

Stays, 1780
From
Fr. James Martin, SJ
:
Oh brother. More lazy stereotypes about celibates. Bill Keller's op-ed today in The New York Times "Sex and the Single Priest" (ha ha) says that pretty much all celibate priests are lonely and that celibacy "surely played some role" in the sexual abuse crisis. By his own admission, Mr. Keller hasn't been an active member of the church since around high school. But that's not the problem with his piece: former Catholics have written perceptively about the church. The problem is that Keller's article is based largely on the opinions of two priests who left the priesthood and a sister who left her order, and his own speculation about what the celibate life must be like. That's like writing a piece on marriage and speaking only to divorced men and women. "Yeah," some of them might say, "married life stinks."

Maybe it would have been helpful to look at some actual data. Sure, there is some loneliness in the priesthood--and there are problems in married life too. But the picture that Mr. Keller paints is ridiculous. In the latest survey on priests from the Center for Applied Research on the Apostolate in 2009, 95 percent report they would "definitely or probably choose priesthood again," up from 79 percent in 1970. Wow. Must be pretty lonely. And as for celibacy "surely" leading to pedophilia and cover-ups, that overlooks the fact that most sexual abuse happens in families, many cases are found in schools and sometimes even in macho places like the Penn State football program. The reasons for the sexual abuse crisis in the church are complex. As they are in families and in schools. But no one says that (a) marriage, (b) teaching or (c) football leads to abuse. Celibacy must be the main culprit in the church, say pundits, because it's so "weird."

His comment that celibacy deprives "priests of experience that would make them more competent to counsel the families they minister" also would imply that a married person should of course never see a single psychotherapist or an unmarried psychiatrist, since they would be incapable of counseling a married person; or that a prison chaplain would need to have been incarcerated to be "more competent." It's a limited notion of professional counseling. (Read more.)
Share
Posted by

elena maria vidal
at 1:00 AM
0 comments
Links to this post



Beware of Lazy Stereotypes
Marie-Antoinette ascending to Heaven by Elisabeth Vigée-LeBrun
Here
is my interview from Christine Niles' wonderful show "Forward Boldly" on BlogTalk Radio about Marie-Antoinette, the Cathars and my current projects. (John Zmirak is on first and then I follow thirty minutes into the program.) I am always being accused of making Marie-Antoinette into a saint just because I do not believe she broke the sixth commandment and committed adultery. In
Trianon
I show her as a practicing Catholic which we all know does not automatically make a saint. People say that by making the Queen into a saint I strip her of her humanity. So we are only truly human if we are fornicating? But this is the mentality.
How many times have I been told that being a saint is boring? As if any of our saints had boring lives. Some of them probably would have loved to have had boring lives. St. Joan of Arc would have loved to have had a boring life. "I'd rather be home embroidering with my mother" she said.
Marie-Antoinette was, for most of her life, as far as we can tell, a Catholic in good standing. The question is, did she ever rise to heroic virtue? I believe she did.
Anyway, enjoy the interview
.
Share
Posted by

elena maria vidal
at 12:00 AM
0 comments
Links to this post



Was Marie-Antoinette a Saint?
Saturday, December 7, 2013
From
Madame Guillotine
:
The gorgeous brunette Jeanne-Françoise Julie Adélaïde Bernard, better known as Juliette, Madame Récamier, was born in Lyon on this day in 1777. There are so many representations of Madame from the austere portrait by David, which shows her reclining wide eyed and slightly timidly on a chaise longue to the much softer and more alluringly confident painting by Gérard to countless others, all of which show Madame wearing her trademark simple white gown, which was intended to represent a virginity that it was whispered she did not relinquish until she was in her forties. It was also whispered that the long suffering Monsieur Récamier, who doted on his young wife who was twenty six years his junior, was actually her father and that their marriage, which took place in April 1793 when Juliette was fifteen, was in fact a clever ruse to ensure that his love child would inherit the bulk of his fortune. This, however, has never been proven and is probably just scurrilous gossip of the sort that was endemic during this period. (Read more.)
More about Madame Récamier,
HERE
and
HERE
.
Share

Madame Récamier in Art
From
Old and Interesting
:
Starchmaking could take up to a month, with long boiling, soaking, draining, rinsing, drying and so on. In the 17th century the use of wheat was criticised as wasting food on fashion. The 18th century saw experimentation with different sources of starch, including horse chestnuts and potatoes. In the 19th century new ingredients and manufacturing methods were developed in the quest for pure white, refined starch. Rice starch was considered to give a good glazed finish. Corn starch made a more opaque mixture but could be made at home. There were recipes for this and other starches in US domestic advice manuals. It was also used in North American branded laundry starch products: often called "gloss starch" to distinguish it from cooking starch.

Even when some starch could be used "cold", home boiling with water and other additives continued. It depended not only on the type of starch but on the kind of fabric, the judgment of the launderer etc. etc. Some starch mixes were milky and more suitable for thicker fabrics. Good laundresses were expected to "clear-starch": preparing transparent starch mixtures and knowing how to use them. Clear-starching meant keeping delicate muslin and similar fabrics from being clogged with starch granules in the loose weave, and avoiding thickening caused by visible traces of starch clinging to the threads. (Read more.)
Share
Posted by

elena maria vidal
at 1:30 AM
1 comments
Links to this post



History of Laundry Starch
Lovers of art, history and the Middle Ages will love the work of artist Matthew Ryan
. According to his website:
Matthew Ryan is both an Historical Illustrator and a Fine Artist. Matthew's work has appeared in publications such as Osprey Publishing, Channel 4's "Walking Through History with Tony Robinson, Medieval Warfare Magazine and Desperta Ferro Magazine. His prints are already becoming popular with collectors and history enthusiasts worldwide.




His work combines detailed and painstakingly researched elements along with a painting and drawing style that is both naturalistic and descriptive. His work gives the viewer both an impression of the times and the humanity of his pieces combined with an eye for capturing the landscape help the viewer feel they are in the scene and the people are alive within the scene.




After graduating with a BA Hons Degree in Illustration Matthew worked for over ten years as a designer before combining his passions of history and art and deciding to work as an historical artist/illustrator. He believes that drawing and painting what he loves and understands has given his work an extra degree of credibility and his passion for what he does can be seen within each image.




The depth and quality of his work seems to build with each new piece. Matthew is looking forward to some exciting new commissions for the new year and also has an ever expanding list of themes that he wishes to cover and make available to people. One of these will be a series of paintings and drawings that Matthew plans to produce for the forthcoming 600th anniversary of the Battle of Agincourt in 2015. Matthew is a keen archer and has enjoyed shooting what is now known as the English Warbow for many years. He is also being a keen fletcher, making his own medieval style arrows similar to those found and excavated from the sunken Mary Rose warship.
Share
Posted by

elena maria vidal
at 12:00 AM
0 comments
Links to this post



Matthew Ryan, Historical Illustrator
Friday, December 6, 2013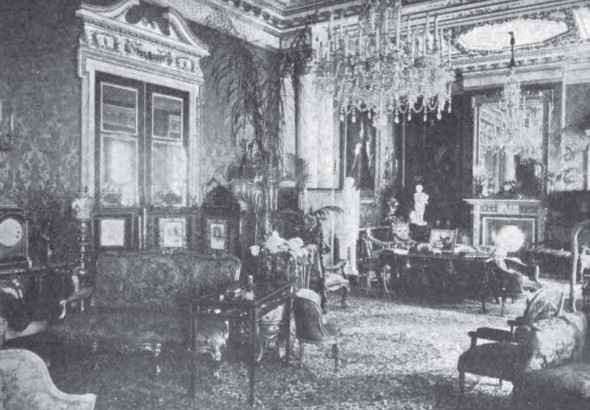 Edwardian Promenade
quotes from a contemporary account about tea with Queen Alexandra:
Afternoon tea is served at four o'clock and is quite an informal entertainment. The guests who would probably not number more than half a dozen arrive a few minutes before the hour, and at four, Queen Alexandra, accompanied by Miss Charlotte Knollys, enters the room. The guests, of course, all rise at the entrance of their Royal hostess and Queen Alexandra shakes hands with each.

Tea is generally poured out by Miss Knollys; though if the guests are very few this office is sometimes performed by Queen Alexandra. The cakes, sandwiches, etc., are handed round by one or two of the younger members of Queen Alexandra's household, who are usually in attendance on such occasions. It should perhaps be explained that with the exception of Miss Knollys, there are now no resident members of Queen Alexandra's household. Members whose presence may be required are notified of the fact and they go to Marlborough House in the morning.

The usual afternoon tea service used at Marlborough House is one that was a present from Queen Victoria to Queen Alexandra when Her Majesty became engaged to King Edward. It is an old Georgian service that was once in the possession of Queen Charlotte, and is probably the most valuable of the many tea services in the plate room at Marlborough House. Among the most frequent guests at afternoon tea at Marlborough House are the Marquis D'Hautpool and Lady Dalkeith, who are both old friends of Queen Alexandra.

The Princess Mary is a very constant guest at afternoon tea; the Princess is generally escorted to and from Buckingham Palace by her governess, but occasionally comes with one of her elder brothers. King George and Queen Mary are, of course, also very constant guests at afternoon tea at Marlborough House, but when Their Majesties are present there are never other guests except members of the Royal family.

In the summer time, when the weather is very fine Queen Alexandra and Miss Knollys nearly always have tea in the conservatory when by themselves, and Her Majesty frequently gets through a portion of her correspondence here in the summer afternoons, but guests are not entertained in the conservatory. Queen Alexandra, when in London, sometimes honors some of her more intimate friends by going to afternoon tea at their house. (Read more.)
Share

Afternoon Tea at Marlborough House
From
Acculturated
:
How does our society undervalue friendship? One doesn't need to think too long about how Facebook has changed our understanding of the subject. In the virtual "community," one can have thousands of friends, some of whom one might never have met or only know of through degrees of separation. Though they may never have spent time together, two "friends" can view each other's lives unfolding (or at least the best, happiest version of a life that is posted) by scanning photos, status updates, and commentary from other people. They need not share any history, any present experiences, or even hope of meeting in the future. Twitter doesn't even bother to characterize virtual relationships in terms of friendship; as someone's "follower," you need not even hope for reciprocated affection.

To this Lewis would offer, "We picture lovers face to face, but Friends side by side; their eyes look ahead. This is why those pathetic people who simply 'want friends' can never make any. The very condition of having Friends is that we should want something else besides Friends. Where the truthful answer to the question, Do you see the same truth? would be, I see nothing and I don't care about the truth; I only want a Friend," no Friendship can arise. There would be nothing for the Friendship to be about…and friendship must be about something…Those who have nothing can share nothing; those who are going nowhere can have no fellow-travelers." (Read more.)
Share
Posted by

elena maria vidal
at 1:00 AM
0 comments
Links to this post



C.S. Lewis and the Meaning of Friendship