Emma and Mr. Knightley
Drink to me only with thine eyes,
And I will pledge with mine;
Or leave a kiss but in the cup,
And I'll not look for wine.
~from To Celia by Ben Jonson

Emma.
is based upon Jane Austen's novel of the same name and revolves around a young lady who is the center of her family and community. Amid so many perfections, she must somehow learn to face her own shortcomings. During her often painful journey to maturity she discovers the meaning of true love and sacrifice. I saw this wonderful film on Prime and it is truly a work of art. It is definitely a film to own. From
Screen Rant
:
It is a truth universally acknowledged that every few years, Hollywood will produce a new adaptation of one of Jane Austen's classic novels. This year comes Emma., the feature-length film debut of director Autumn de Wilde that adapts Austen's comedy about romance and marriage in Regency England. Originally published in 1815, Emma has been adapted many times, perhaps most famously in Amy Heckerling's 1995 film Clueless, though Gwyneth Paltrow's period piece Emma released the following year. Now, de Wilde's Emma is another period adaptation, but one with some modern sensibilities and style. Emma offers a stunningly crafted and uproarious adaptation of Austen's novel, with gorgeous costumes and delightfully charming performances.

The movie follows Emma Woodhouse (Anya Taylor-Joy), a "handsome, clever and rich" young woman who has a knack for meddling in the romantic lives of her friends, much to the chagrin of her father, Mr. Woodhouse (Bill Nighy). The film opens on the day of a wedding Emma helped orchestrate, between her friends, Mr. (Rupert Graves) and Mrs. Weston (Gemma Whelan). Emma next sets her sights on the young Harriet Smith (Mia Goth), though she is unsuccessful in creating a match with Mr. Elton (Josh O'Connor). For herself, Emma is interested in Frank Churchill (Callum Turner), but discovers she may in fact have feelings for George Knightley (Johnny Flynn). Emma's meddling creates a difficult situation that involves not only her feelings, but those of her friends, and she'll have to figure out a way to untangle it in order to ensure she and her friends find love and happiness.

Emma's script is adapted by novelist Eleanor Catton (The Luminaries) and manages to capture much of Austen's own comedy, translating it elegantly to the screen. There is, of course, a reason that Austen's novels are adapted time and again - it's because the stories are so engaging and compelling that it's easy for each new generation to fall in love with the characters and be transported to the time of Regency England for some fun and romance. There's an escapist nature to our love of Austen, as in many tales of romance, and both Catton's script and de Wilde's direction only further elevates that escapism. The setting of the fictional Highbury is beautifully picturesque - except, of course, when the story calls for a rainstorm, though even then, it's still quaint - while the costumes in Emma are absolutely exquisite. On the whole, Emma adapts Austen's original story with such love that it's as equally a celebration of her work as of the romance at the heart of it. (Read more.)
From
Newsroom
:
The most important decision Catton has to make is whether to take liberties with the book she has in front of her. It's irritating for the viewer to see too many liberties being taken with the original. But Catton is too clever a writer not to give Jane Austen due deference, and too engaged in the now, not to draw from the novel what is there already, but which resonates today.
We are currently living in a time which decades ago we were told would be one of great leisure. Robots were not only going to be doing our jobs, they were going to cook and clean and make the beds and we'd have time to do what we please. Instead, people are working crazy hours with no job security just to make ends meet. So here we are, in Emma, back in the olden days. We are watching two hours of people who've never done an honest day's work in their lives. They get up and get dressed, they socialise, they wander into the village, they scheme, write letters, they eat their dinner, dance or play the piano, then go to bed. They are not, of course, a large percentage of the population. And it's hard not to feel both a little guilty and bitterly jealous. This is life as Winston Peters imagined it for retirees.
It's the class theme on which Catton has chosen to concentrate. Emma's pernickety father, masterfully played by Bill Nighy playing himself again, says to Mr Knightley that if he walks to the Woodhouse mansion, rather than coming in his carriage, his boots will get covered in mud. They haven't, as it turns out, but if they had, you can be assured that it wouldn't have been Mr Knightley who gave them a damn good brush. The beautiful houses that we, along with the lesser characters, can't help but admire, are dust-free.
Every surface glows. Every fire is set, every meal is placed upon the table. Every awkward piece of clothing – as of course no one hangs around in trackpants and hoodie – has not only been laundered by someone else, but the person wearing it has been assisted by someone else to actually put it on. And those ringlets do not curl themselves. It's not that this isn't in the novel already; it's just that Catton with her clear eye has noticed it. (Read more.)
Another excellent review from
The Washington Post
.
And more
HERE
. The soundtrack is marvelous, too,
HERE
.
Emma and Harriet
Jane Fairfax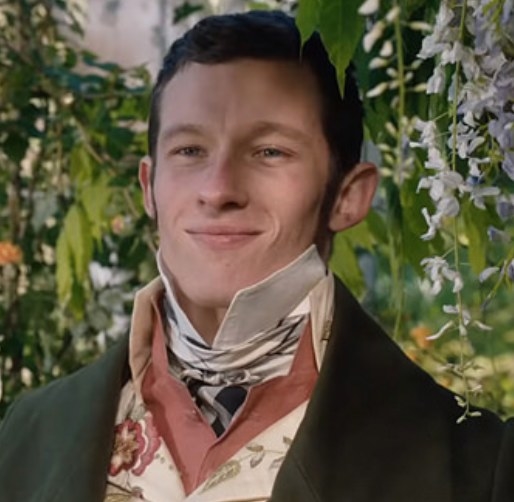 Mr Frank Churchill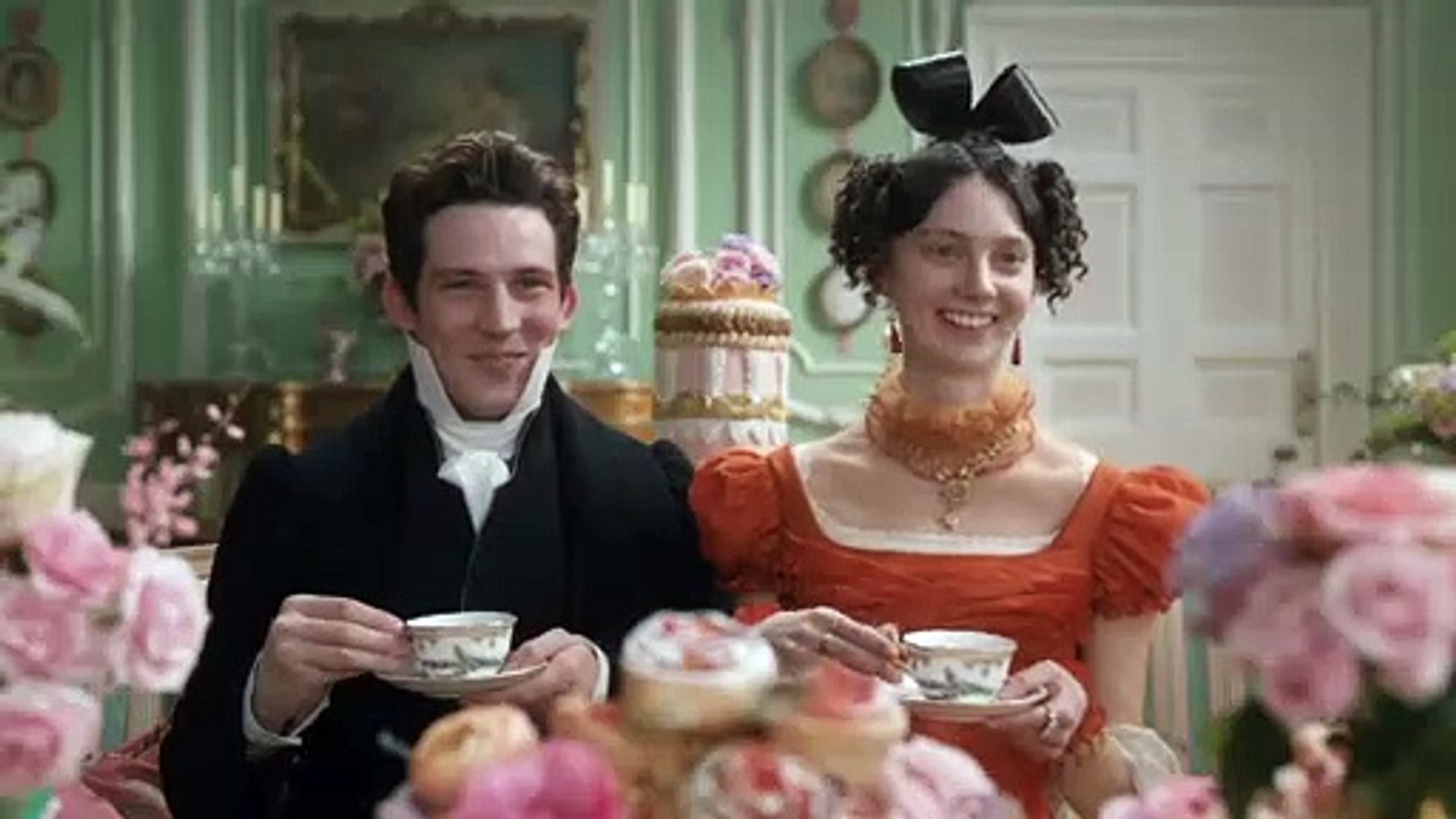 Reverend and Mrs. Elton
Share