Marriage in 1967



Priscilla and Elvis in 1959 when she was 14
With the newly released Coppola film about Priscilla Presley making headlines I thought I might read the book it is based upon,
Elvis and Me
. Actually, I listened to it on Audible, with the author Priscilla Presley reading it aloud herself. Priscilla has an incredibly charming reading voice, and occasionally laughs at the many humorous anecdotes of her life with Elvis. I was never an
Elvis Presley
fan, although I always loved how he sang "I Can't Help Falling in Love with You." Plus I enjoyed the film
Wild in the Country
, one of his few serious dramatic roles. I believed he could have been more than he was and it seems that Elvis did as well. A true artist, he had a desire to channel the raw talent he possessed to become a great dramatic actor, being embarrassed by all the silly beach movies. Instead he wound up in a golden cage in Vegas as an aging, flabby, drugged-out caricature of himself. Last year's film
Elvis (2022)
portrays the cultural and sexual revolutions of the mid-20th century that Mr. Presley helped to launch, although he himself was basically of a romantic, old-fashioned bent. The Presleys, Elvis and his parents, were simple people and unable to deal with the tidal wave of fame and fortune that swept through their lives. Most especially Elvis was no match for the drugs that he sought in order to function.
Elvis and Me, told from Priscilla's point of view through a ghost writer, is about how Priscilla as a 14-year-old girl meets Elvis in Germany where her stepfather and family are stationed in the late 1950's. She becomes his girlfriend, which involves long hours alone with him in his bedroom, while his father, grandmother, and coterie of pals, are downstairs. While Priscilla insists that they never consummated their union until after they married seven years later, it becomes clear that it is not a platonic relationship.
After Elvis returns to America, Priscilla claims that she was so obsessed with Elvis that her parents eventually let her go live with his family in Memphis, TN when she was only sixteen. Elvis promised her father that she would be at a Catholic girls' high school and that she would live at the house of Elvis' father and stepmother. Priscilla writes that instead she lived at the Graceland mansion with Elvis, sharing a bedroom. In her biography she blames herself for deceiving her parents. She blames Elvis for giving her drugs, which once knocked her unconscious for two days. For the next five years Elvis makes her over into a glamor girl while lavishing her with jewels, horses, cars, furs, everything that money can buy. Meanwhile, she completely sublimates her own personality in order to please Elvis and be his "dream girl." No one questions the propriety of a young girl, cut off from the normal adolescent world, living as the sexually-frustrated "mistress" of a rock star. I say "frustrated" because that is word Priscilla uses to describe the sex play she continually engaged with in a lover who insisted she physically remain a virgin.

Elvis finally marries Priscilla when she is twenty-one at the Aladdin Hotel in Las Vegas in a civil ceremony. They finally consummate their love and nine months later their only child Lisa Marie is born. However, their basic incompatibility has already become obvious as Priscilla is unable psychologically to play a role any further. Plus Elvis is on the road all the time and hanging out with other women. Priscilla leaves Graceland with Lisa; Elvis falls apart and dies on August 16, 1977. She insists that she still loved him and he that loved her, in spite of their divorce and their relationships with other people. The book ends when Priscilla acquires control of Graceland and Elvis' estate on behalf of their daughter, eventually making more money then Elvis ever did.

Personally, I cannot understand how the adults in Priscilla's life could have allowed her to be subjected to such an inappropriate lifestyle for a teen. There were plenty of adults around, too; in addition to the Presley family members there was Elvis' entourage known as the "Memphis Mafia." They were always at Graceland when Elvis was home. They all helped hide teenage Priscilla from the police. I decided to read Suzanne Finstad's Child Bride:The Untold Story of Priscilla Beaulieu Presley. The biography shows what most historians discover in their research, that recollections can vary, and often do. Finstad researched Priscilla Presley as thoroughly as one would study a historical personage. Priscilla's Elvis and Me is a subjective, highly personal account but does not always hold up when scrutinized in the light of facts and other people's testimonies. Most of Finstad's sources appear to be reliable, even the skanky ones, such as the soldier who claimed that 14-year-old Priscilla slept with him in order to meet Elvis. Any romantic notions about Elvis and Priscilla are shattered and one is left only with sadness combined with awe that Priscilla was ever able to have anything resembling a normal life. How normal her life has been though is questionable; Lisa Marie was certainly traumatized by much of what went on. Let us say Priscilla built a financially successful life, acquiring economic security for her family.

According to Finstad's book, Priscilla had an active social life in Germany at high school, including boyfriends, and she was not pining to go live with Elvis at Graceland. And she was seventeen, not sixteen, when she moved to Tennessee. Her parents, whom Priscilla defends in her memoir, wanted her to be with Elvis so that he would eventually marry her, so like everyone else they looked the other way, refusing to see the bedroom antics that were a torment to Priscilla. Finstad thinks that money changed hands between Elvis and Priscilla's father. Stepfather, that is. Paul Beaulieu was the second husband of Priscilla's mother and not the birth father of Priscilla. Her birth father James Wagner died in a plane accident when she was an infant, a fact which she never knew until she was thirteen. She was haunted by the idea that she had lost her father without even knowing he had existed. And so Priscilla came to idealize Elvis as the romantic hero that her real father had been to her mother before he died. Elvis idealized Priscilla as a virgin bride, his perfect innocent little girl, whom he could mold to suit his proclivities. Neither saw the other for what they really were, each loving a phantom that did not really exist.
Finstad's book Child Bride covers a lot more ground and includes many more important characters, including Priscilla's various lovers. Her most disastrous affair was with a bisexual who, after many years of cohabitation with Priscilla, conceived a passion for thirteen-year-old Lisa Marie. It occurred during the years when Priscilla had a role in the television show Dallas. That particular bit of weirdness, along with being the daughter of a dead superstar, who had truly loved her and whose loss she felt keenly, added to Lisa Marie's troubled psyche. Being immersed in Scientology, Priscilla's chosen religion for herself and her daughter, did not appear to help either, although Priscilla claims it did. Child Bride ends when Lisa Marie's brief marriage to Michael Jackson collapses. It is heartbreaking because Lisa is shown to be a sweet person, with a loving heart and many genuine talents, like her daddy, but the whole Hollyweird scene and the drug culture are brutal to sensitive souls. Before she died at age 54, Lisa was upset by the new Coppola film, which she felt distorted her father's image.

From BBC:
Four months before she died in January, Lisa Marie Presley objected to a film that was being prepared about her parents, Elvis and Priscilla Presley. An article in Variety has reported that she sent two emails in September 2022 to its writer-director, Sofia Coppola (Lost in Translation, Marie Antoinette), complaining that the screenplay characterised Elvis as "a predator and manipulative", and that this was a result of Coppola's "shockingly vengeful and contemptuous perspective".

It's not uncommon for somebody to be upset about the way a loved one is portrayed on screen, of course. What makes Lisa Marie's diatribe unusual is that this particular film, Priscilla, isn't an unauthorised hatchet job or an overblown Hollywood fantasy, but a muted, intimate drama adapted from Priscilla's own memoir, Elvis and Me, and executive produced by Priscilla herself. She has promoted it side by side with Coppola ever since its premiere at the Venice Film Festival in September

.

(Read more.)
From The Jacobin:
Coppola's focus is far narrower. Her film begins in 1959 when Priscilla first meets the world-famous singer Elvis Presley. Her father is an army officer serving in Germany where Private Presley is also stationed. She's a shy fourteen-year-old and Elvis, at age twenty-four — though it seems he always remains an emotional teenager himself — is immediately smitten. And so the terribly creepy relationship begins over the far-too-mild objections of Priscilla's parents.

It's unfortunate, given the film's clear aim to represent this relationship in terms of the contemporary awareness of the horrors of "grooming," that it adopts such a weirdly prurient point of view. The narrative is arranged to build tension around the moments of sexual transgression, to keep the audience always wondering through interludes of kissing, "Will the statutory rape occur now? Now? Now?"

When in fact, as the film shows, it's due to Elvis's own old-fashioned ideas about the sacredness of marriage. It's Priscilla who gets more and more impatient after years of deferred sexual intercourse, waiting for the wedding night when she turns eighteen. This is long after they've been sharing a bed at Graceland, where she lives from the age of sixteen.

"What about my desires?" she says, in a brief moment of retaliation against Elvis's obsessive control over their every interaction, and repeated squelching of her attempts to consummate their relationship.

"We can do other stuff," Elvis consoles her.

It's such a bizarre relationship, obviously, and so well known to anyone who knows anything about Elvis Presley, that if it were any other filmmaker, you'd really have to wonder why Coppola is so interested in Priscilla Presley's perspective. Certainly the late Lisa Marie Presley wondered why, in a highly-publicized pair of emails she sent to Coppola shortly before her death about the Priscilla script she hated, claiming not to recognize in it either her father or her mother's idea of her father. (Read more.)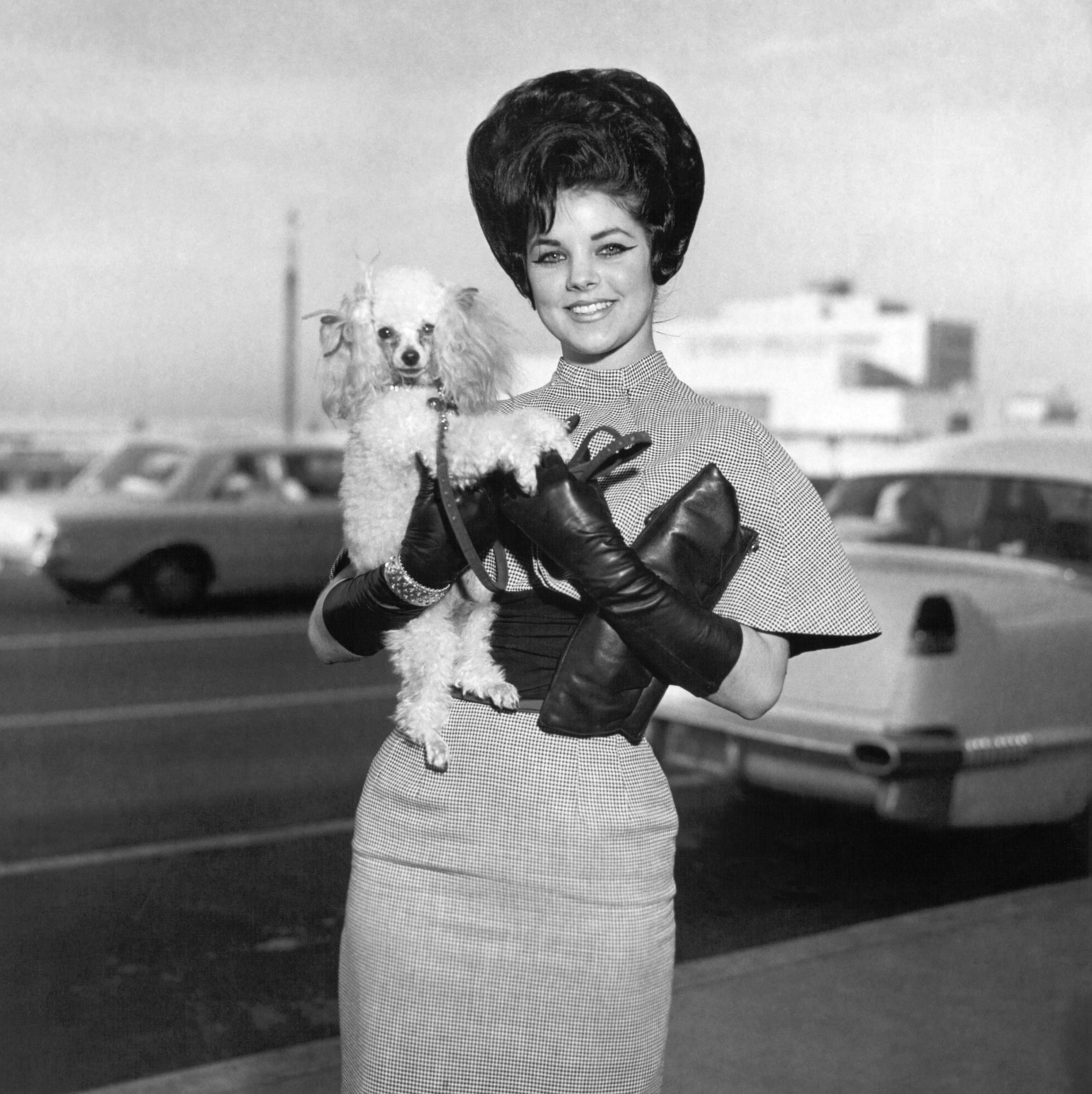 Glamorous Priscilla at seventeen, with the poodle Elvis gave her.

Heart problems may be hereditary for the Presley family. From the
New York Post
:
Elvis' only child was just 54 when she died Thursday, reportedly after suffering cardiac arrest at home in Calabasas, California. Her dad, the King of Rock 'n' Roll, also died of heart problems in 1977, at the even tragically younger age of 42. His twin, Jesse, was stillborn.

Elvis' death had already been compared to that of his mother, Gladys Smith Presley, 19 years earlier — also from heart failure and at the age of just 46. Some of her siblings also died in their 40s. These "shocking similarities" are not mere coincidences, according to author Sally Hoedel — who more than two years ago laid out her theory that Elvis was "destined to die young."

"Elvis' maternal grandparents were first cousins," Hoedel wrote of Robert Lee "Bob" Smith and Octavia "Doll" Smith, who married in 1903. "It was that union some 30-something years before Elvis' birth that dictated his short life" as well as others in the family, Hoedel stated, blaming it on the family tree in which "branches got tangled."

"Creating Elvis took a rare DNA combination that was not supposed to happen. It was not supposed to survive — and the consequences of that have long been ignored," she wrote. (Read more.)
Elvis with his parents, Vernon and Gladys Presley

Here is the heartbreaking interview in which Priscilla discusses with Piers Morgan the tragic losses of her daughter Lisa Marie and her grandson Benjamin Keough.
Share