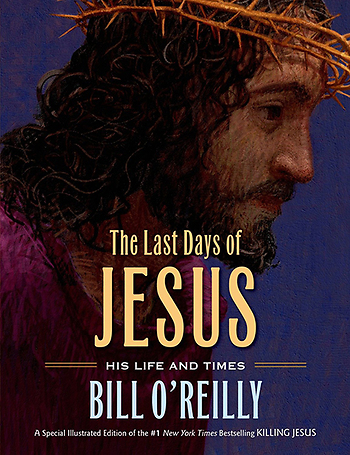 Let us go forth therefore to him without the camp, bearing his reproach. For we have not here a lasting city, but we seek one that is to come.

~Hebrews 13:13-14
The Last Days of Jesus
by Bill O'Reilly explores the historical background of the life of Jesus, building an authentic portrait of the world He lived in. With genuine respect for his subject, O'Reilly writes of the politics, culture, beliefs and balance of power among the different groups in first century Palestine as if he were reporting from the scene. Written in simple and direct language, the author clearly and succinctly depicts the year by year, day by day journey of Christ to His Cross on Calvary. While showing the forces which plotted His ruin, O'Reilly makes it clear that Jesus Christ was highly aware of what the end of His earthly life held for Him and yet He would not turn back.
The childhood of Jesus is described in light of Scripture, archaeology, and Jewish tradition. The problems faced by Mary and Joseph are brought to life in the context of their culture and the Law. Many Jewish customs and expressions are explained in a manner which can only deepen one's understanding of the Gospels. The book provides many illustrations and charts which enhance the verbal portrait of the most fascinating Man Who ever walked the earth. The author shows the gamut of emotions experienced by the Apostles, who believed in Jesus and yet were continually mystified by His words and His actions.
The Last Days of Jesus
emphasizes how the ritual slaughter of the lambs in the Temple was going on while Jesus was dying on the Cross as the Lamb of God
The Last Days
presents the economic realities of the Roman system of taxation: the taxes were high and many people were forced into destitution because of them. What is worse is that the Jewish leaders were richer than ever, having figured out how to work the Roman system, and thus they cheated their own people. The author points out what should be obvious: how the love of money was intrinsic in bringing about the death of Our Lord. Judas wanted money; Pilate and the chief priests did not want the flow of money interrupted by anyone, even if He was the Son of God. The priests, of course, saw Jesus as a threat to their power and were determined to get rid of Him. As the author emphasizes at the end, they had no way of knowing beforehand that the Jesus they tried to destroy would conquer in the end.
The Last Days of Jesus
would be excellent for youth Bible study groups, and is helpful Lenten reading for adults as well.
(*NOTE: This book was sent to me by the author's representative in exchange for my honest opinion.)
Share