Brendan Gleeson as Father James Lavelle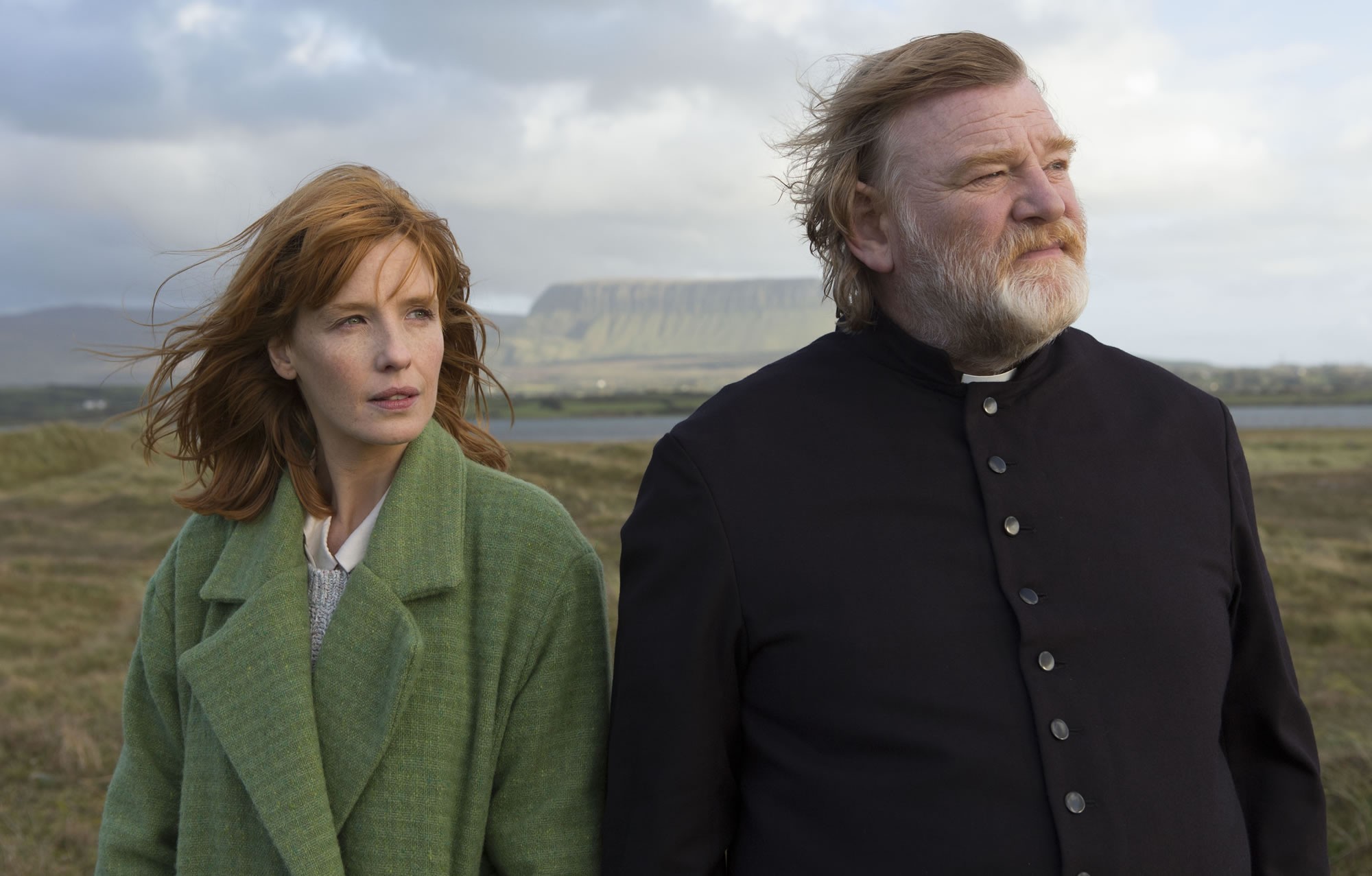 Fr. James and his daughter Fiona (Kelly Reilly)
Father James Lavelle

: I think there's too much talk about sins and not enough about virtues.




Fiona Lavelle

: What would be your number one?




Father James Lavelle

: I think forgiveness has been highly underrated.
~from Calvary (2014)
As most of us realize, sometimes truly excellent films are ignored by the Oscars. One such film is
Calvary
(2014) directed by
John Michael McDonagh
and starring Irish actor Brendan Gleeson. Gleeson's award-winning performance is among the most brilliant and heart-wrenching that I have ever seen in a film. He portrays a dedicated and fervent Catholic priest in County Sligo who must personally pay the price for the deep wound of scandal caused by fallen clergymen in Ireland. As Father James Lavelle, he must, in imitation of his Savior, assist the damaged members of his flock in their often quagmired journey to eternity. Most of the people whom Fr. James tries to help respond with sarcasm and blasphemy. In the meantime, he is threatened by a victim of sexual abuse, whose identity he knows but refuses to reveal.
I found it refreshing to see a struggling but devoted member of the Catholic clergy depicted so compassionately, when the media and films so often exploit the image of those few who have committed crimes. Fr. James is a unique character yet there is much in his pastoral commitment that puts me in mind of so many wonderful priests whom I have been blessed to know throughout my fifty plus years as a Catholic. Sadly, as the gates of hell are released against him, poor Father (and the viewers as well) is subjected to the most vile cursing and disgusting topics of conversation, all of which are meant to disturb and shock. Yet little rattles him, until they finally discover how to stab him in the heart.
According to the
Los Angeles Times
:
Edged with suffering and humor, "Calvary" follows Father James, a widower and recovering alcoholic whose parishioners have been betrayed by the Roman Catholic Church's sex abuse scandals and Ireland's corrupt economy. A priest who came late to his calling, Father James lives in a sparse white room of picture-less walls and ministers to a flock that includes a butcher who beats his wife and a barkeep facing foreclosure. Their lives entangle amid the dark cliffs and sweeping green fields along the North Atlantic.

The opening scene sets a menacing tone. A Caravaggio-like light shining on his russet-gray beard, Father James sits in a confessional when the voice of a penitent cuts through the scrim. "I'm going to kill you because you are innocent," says the unknown man who was sexually abused by a priest as a boy. "There's no point in killing a bad priest, but killing a good one, that'd be a shock."

Gleeson's face — filmed in single shot — slips across disbelief, pity, fear, scorn and defiance. The threat echoes through the film as Father James, a black-cassocked figure of virtue, resolve and cutting wit, struggles with his own transgressions. He is a righteous man counted among the evil. (Read more.)
We are presented with characters who resemble those encountered by Christ in the Gospels. In most of the cases we see how sexual immorality and spiritual brokenness go hand-in hand. Two at least, a young man imprisoned for serial murders and a foul-mouthed prostitute, are meant to put in mind the demon-possessed souls encountered by Christ. The local millionaire made me think of the rich young man. Father James' own daughter Fiona, becomes his Mary Magdalen. There is a woman at the well in the form of the town adulteress, and an assorted collection of Pharisees and Saducees who bait the priest without mercy. The local atheistic doctor, whose taunts are particularly clever and cruel, can only represent Satan himself. Father James, menaced with death, spiritually ascends his own Calvary. The expression on his face when he is confronted with the man who has threatened him is so full of peace and serenity as to be awe-inspiring.
As
The New Yorker
summarizes it:
Gleeson plays Father James, who tends the souls of a rural parish in County Sligo, on the northwest shoulder of Ireland. As aerial shots make clear, the countryside is fierce and green, with the Atlantic breaking the teeth of the coast, and a huge stone mass, like a giant's vaulting horse, overhanging the land. That is Ben Bulben, enshrined by Yeats in verse, and it dwarfs all those dwelling below, save Father James, who strides around in his black soutane, with a beard of russet and gray. Piece by piece, the present reveals the past: Father James used to be a drinker, and he could be yet again, given the provocation and the chance. He was married, too, before being widowed and then ordained; he has a daughter, Fiona (Kelly Reilly), who comes to visit from London, with bandages on her wrists. You start to realize what burdens our hero has to bear. How does he summon the strength to lighten the woes of others?

[....]

What stays with you from "Calvary" is not its dramatic pull but its solitude; look at Father James entering his bare bedroom, with its crucifix on the wall, and ruffling the white-golden fur of Bruno, his retriever and best friend. "Even the wisest man grows tense / With some sort of violence," Yeats wrote, in "Under Ben Bulben," and that includes the man of God. At one point, Father James gets hold of a pistol, as if planning a shootout, only to hurl it unused into the waves. The tension of "Calvary" is fitful at best, and much of the movie trips into silliness, but in Brendan Gleeson—in his proud bearing and his lamenting gaze—we see the plight of the lonely believer in a world beyond belief. (Read more.)
The segment in which Fr. James hears his daughter's confession shows that now he is no longer only her father according to the flesh but according to the spirit as well. When Fiona addresses him as "Father" in the confessional it is obvious that the word has deepened in meaning for her. She comes to see that instead of "losing" her father to the priesthood, she has gained family. Her experience of his paternal care has not vanished but been enriched; their lives have not been diminished but have been expanded. In the end, Fiona is the one person who has been reached through Fr. James' witness to the love of God; she finds the strength to bring forgiveness and redemption to another in a brief but powerful scene. We realize again the infinite cost of one soul, and how it is only by sharing in the Passion of Christ that we can truly make a difference in the world.
Share