The Queen's tear drop earrings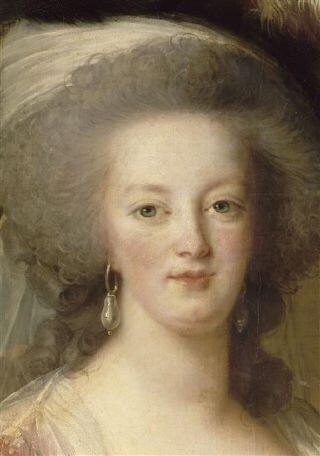 The famous tear drop pearl earrings of Queen Marie-Antoinette are being auctioned by Sotheby's, after long being in the private collection of the House of Bourbon-Parma. After being whisked out of France during the Revolution, the jewels belonged to the Queen's surviving daughter
Marie-Thérèse Charlotte
of France and then passed to
Marie-Thérèse Charlotte
's beloved niece Louise d'Artois, Duchess of Parma. Other pieces belonging to the Queen are being sold as well. The jewels are being publicly displayed for the first time in two hundred years. From
The Daily Mail
:
Marie Antoinette's personal collection of pearls is set to go under the hammer in a landmark jewellery sale. The remarkable items, which were smuggled out of

France

during the Revolution, are being offered for sale as part of a $5million catalogue of royal jewels being put up for auction at Sotheby's, Geneva, later this year. According to the auction house, the Queen's pearls have not been on public display for the last 200 years and have been kept in immaculate condition by a private owner. Among the collection is a diamond pendant supporting 'a pearl of exceptional size', which is estimated at $1-2million. (

Read more

.)
The infamous diamond necklace shown in the article in a drawing was never owned by Marie-Antoinette
; she never even wanted to own such a gaudy piece. Indeed, she was the innocent victim of a criminal conspiracy, as is related in
the book, Daughter of the Caesars
.
Marie-Antoinette's Pearls
Marie-Antoinette's pearl pendant
Diamond parure of Marie-Antoinette
The Queen with pearls in her hair, wearing the Hope Diamond
Share