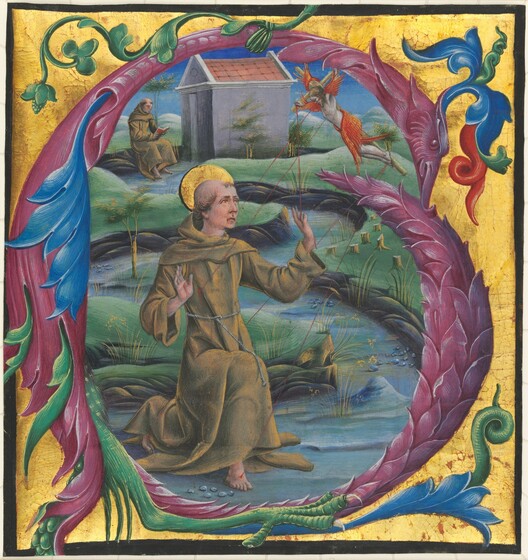 From
The Leaven
:
WASHINGTON (CNS) — St. Francis of Assisi's reception of the stigmata, the wounds of Christ, at La Verna in Italy and its depiction by artists beginning in the 15th century is the focus of a National Gallery of Art exhibit. "Heavenly Earth: Images of Saint Francis at La Verna" includes 30 pieces of Franciscan art centered on the miraculous 13th-century event. The exhibit was to open Feb. 25. Ginger Hammer, an assistant curator at the museum in Washington, said the display focuses on an "unprecedented event in Western spirituality." No one in recorded history had experience such an occurrence before St. Francis did in 1224.

It happened while St. Francis was meditating on the passion of Christ during one of his regular retreats in the mountain wilderness. "He wanted to understand the very suffering that Christ endured. The result of his prayers reportedly is that a seraph, or six-winged angel, approached him enfolding the image of Christ on the cross. When the seraph departed, the actual wounds of Christ's passion were transferred to the body of Francis," Hammer told Catholic News Service Feb. 20 during a media preview. "That had never happened before and it was quite remarkable that through his own endeavors something mystical of this magnitude could happen to a human being," she said.

A Franciscan sanctuary and museum complex mark the La Verna site today and continues to welcome pilgrims. The event was so extraordinary that artists over the centuries have tried to capture it to share with others. The exhibit focuses on work in various media from the 15th through 18th centuries. (Read more.)
More information at the National Gallery of Art website,
HERE
.
Share