An engraving from the early 1780's showing Marie-Antoinette honored by the muses of art, talent and beauty
. It is sad to think that at the same time hideous pornographic pamphlets were also being circulated.
The Getty Museum has an article about Marie-Antoinette's artistic eye and her contributions to the world of furniture design, HERE
.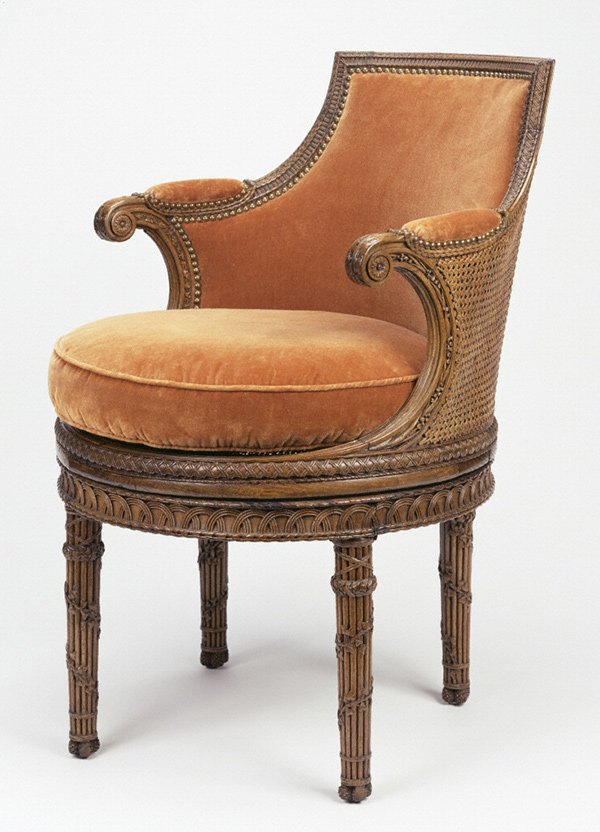 One of four such pieces now at the Getty, this giltwood side chair formed a suite of eight side chairs and eight armchairs delivered to the Petit Trianon by master craftsman François II Foliot in 1781. Designed by Jacques Gondoin, they were used to furnish the salon du rocher, or rock salon, of an octagonal garden pavilion known as the Belvédère.
Marie-Antoinette invited her inner circle to take a seat on these chairs while enjoying music and tea in the salon du rocher, which looked out onto an ornamental lake and grotto. Carved torches emerging from ivy-bound sticks form the chair's stiles, or vertical sides, and are reminiscent of those used to illuminate the Belvédère and other garden features for evening receptions. Marie-Antoinette's brother, Holy Roman Emperor Joseph II, and the future Czar Paul I of Russia and his wife were received at Trianon in this manner.
- See more at: http://blogs.getty.edu/iris/three-reasons-to-love-marie-antoinette/#sthash.wpT9g9qP.dpuf
Share